Cabin / Hunting / Acreage

Property #013: Located approximately halfway between Leakey & Camp Wood and a short drive off Ranch Road 337 is where you will find this 65.53 +/- acre recreational retreat. Though very private & secluded it is easily accessed in most any vehicle. There is a comfortable furnished hunter's cabin with sleeping/living area, kitchen, bathroom, electricity & water. There are no known restrictions and the land is currently under Ag. Valuation so the taxes are very low. The terrain is diverse with deep draws, wet weather creek beds, & rugged high ridges. Vegetation is typical of the area and includes nu-merous oaks, pinion pines, mountain laurel, cedar, & other brush. Real County is known for the abundant wildlife so the hunting should be good for the native & exotic species that typically inhabit the area. The current owners have had 30+ years of enjoyment of the property but now it is time to pass the torch! Shown by appointment.
Listed at $399,500.
Download an Adobe printable brochure here.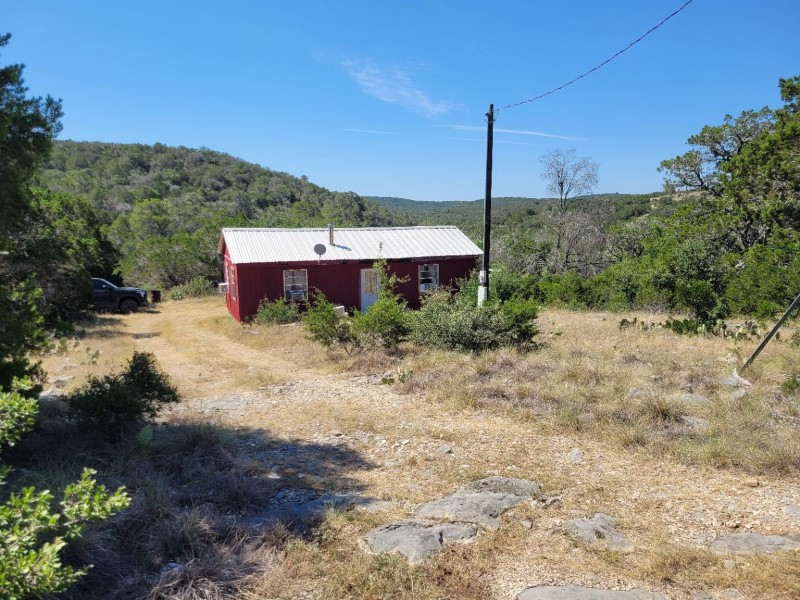 Additional images - click a thumbnail to enlarge
Broker does not make any representations, warranties or covenants of any kind or character, whether expressed or implied, with respect to the quality or condition of the property, suitability of the property for any & all activities & uses, which purchaser may conduct thereon, compliance by the property with any laws, rules, or regulations of any particular purpose, & specifically; Broker does not make any representations regarding hazardous or toxic waste, as defined by the Texas Solid Waste Disposal Act & the regulations adopted hereunder, or the United States Environmental Protection Agency regulations or disposal of any other hazardous or toxic substance on the property; or the Endangered Species Act of 1973; or for Live Oak decline, Oak wilt or any other natural phenomena. All information furnished is from sources deemed reliable, but no warranty or representation, expressed or implied , is made to the accuracy thereof, & is submitted subject to prior sale, withdrawal, or changes in price or terms without notice.